Without a doubt, one of the most important parts of your business, band, or personal brand: Your Vector Logo
---
What is a vector logo?
Bear with me.... "Vector graphics files store the points, lines, shapes, curves and colors that make up an image as mathematical formulae. High quality logos are always designed in vector based software." –www.wikipedia.com
Ok, I know that sounds incredibly boring but it's actually kinda cool.
How will having a vector logo benefit me?
Vector logos can be scaled as large or as small as you would like, while remaining perfectly intact, crisp and clear. With a vector logo, you can resize your logo as large as the side of your private jet, and as small as the tip of an eraser without sacrificing any quality.
Images created in a pixel based software (for instance, a .JPG, an image you save off the web, or an image you've sneakily captured in a MS Word Document) will not scale properly and will lose quality each time it is resized, becoming impossible to work with. Think of all the things you can slap your logo on with the ability to scale it consistently and precisely.
Example: Did you ever try to enlarge a great photo, but when it returned to you developed, it appeared blurry and pixelated? This is the same thing that happens to a pixel based logo over time when it is NOT a vector. Check out the image of the Lauren Davis Creative owl below. See how the owl on the left is crisp and clear, and the one on the right is blurry and unprofessional looking?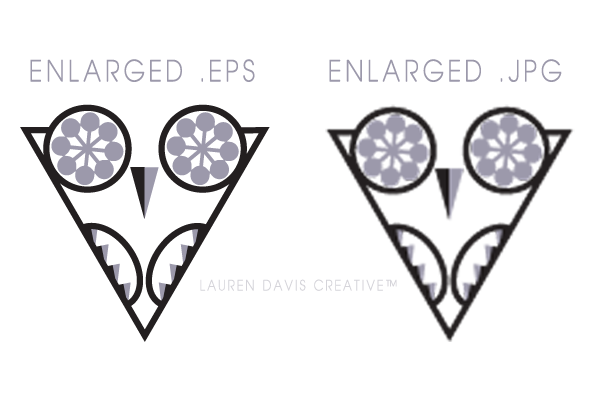 Your goal is to have consistency and professionalism from your business card, to your embroidered shirts, to your hats, to your rack cards and beyond. If you're a band or singer/songwriter; from your t-shirts, to your download cards, to your album cover, to your pin-back buttons. If you're in this for the bigger picture, a vector is absolutely necessary.
It is your

g

ol

d c

ar

d. 
How do I know if I already have a vector version of my logo/image?
Usually a vector file will have an .eps or .ai extension at the end. For instance the file name for the LDC logo is LaurenDavisCreative_Logo.eps
If your file is pixel based, (meaning NOT a vector) it will probably have one of these extensions instead: .jpg, .tif, .gif, .png or .psd 
Unless you own vector software, you will most likely NEVER be able to open the vector logo your graphic designer sends you. But THAT'S OKAY! Save it and cherish it. Whenever you work with a graphic designer, web designer, sign maker, or high quality printer in the future, you will be asked to send over your vector logo for the highest quality of print work. Voila!
When you work with Lauren Davis Creative to create your logo and branding package, you'll receive a multitude of file types that you can indeed open and use frequently along with your vector file formats. We'll also send you a style guide for your logo, and instructions on each file type so you won't be left wondering how to use them.
Even if you haven't worked with Lauren Davis Creative, save yourself a headache and make sure that you request a vector file of your logo from the graphic designer you have chosen to work with for the best quality results.
What if I have an existing logo, but no vector file?
Great question! A professional graphic artist can skillfully design your logo in a vector format by re-drawing and re-creating the logo from scratch. In some cases, logos may need some love; updating, cleaning up, or refreshing a logo can be fun and breathe new life into your branding. Lauren Davis Creative can surely help with this too.
Last but not least, it's totally editable in the future, as opposed to a pixel based logo. Graphic designers strive to create timeless graphics that will last the lifetime of your business, but if necessary, in 10 years, your favorite graphic artist can head into that .eps file and modernize it, fix the business name if it has had a slight change, or re-work something that no longer meshes with your ever-evolving brand. Vectors are editable.
Do you have any questions? Get in touch! Email Me