If you know me as a person, you know that I am bad at small talk, and I can't lie about anything. I show every damn thing on my face.
Those are two traits I have had forever. They are carried through my business and it seems to be the reason I am able to truly connect with so many interesting people. I would like to say I work hard at being genuine, but I have never been able to be ANYTHING but myself naturally.
But you're here for a post about Instagram…
and because I'm not one for small talk, here are the facts. There are SO many tips, tricks, and hacks by self-proclaimed experts, but it's never been my style to tell you my "OPINION" of how something works. By the way, you can download a FREE worksheet, grid planner, and brainstorming PDF to go along with this blog post.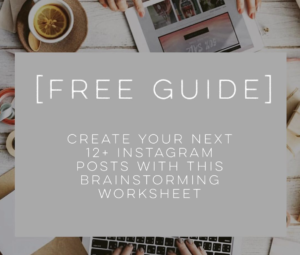 Instead of giving you my opinion, I like to pass on the knowledge I KNOW works, no matter what size business or following you have, that has evidence to support it, and that you can implement immediately. This is the same process I walk through every time I take on a new influencer or small business client.
Ready? Do these 3 steps first.
Step 1.
In order to create your next 12 posts, I want you to try to forget all of the tips and hacks you believe to be true and instead think about your brand. Your brand is NOT your logo; it is what people feel when they think about your organization. Visualize what you want someone to feel about your company when they come across your social media. What do you want people to say behind your back when they talk about your brand?
Step 2.
What is your mission statement, brand pillars, or message? Take a deep breath in, and a deep breath out, and think of why you started this business. (Stay with me here, we will get to the meat of this.) Does your mission statement align with how you would like people to "feel" when they think of your brand?
Step 3.
What is your color scheme? Do you have one? You can find it in two ways. 1.) Look at your logo if you have one (or style guide if you were given one by your designer) or 2.) reference the colors you naturally use in your Instagram feed. To easily remember your color palette, screenshot those colors and keep them in a folder on your phone. Use your color scheme to inspire the photos you take or post. Be conscious of color around you and incorporate those colors into your thread.
Here's the thing. You don't even have to use exact colors, or theme your profile with a color scheme at all, but the reason I am having you be conscious of your color scheme is because it is an easy way to make your Instagram feed look and feel more consistent, and as humans, we are drawn to consistency. Examples in the walk-through worksheet.
---
Now you are more prepared than ever.
The most frequently heard statement I get is, "I don't know what to post." To help you with your Instagram woes, I've come up with some practical questions to help you get your creative juices flowing and inspire at least 12 future posts. Keep the last 3 steps in mind as you brainstorm, and remember what I said about forgetting the "hacks" you've heard before.
Relieve your brain from worrying about all of the tips and tricks you have heard before and just FOCUS. I have also included space for writing, brainstorming, and some extra tips in the worksheet that will help you brainstorm, but if you're in a time crunch, here are the questions to help prompt your posts.
1., 2.) Brainstorm 2 frequently asked questions that you get asked about your business/brand or are frequently asked about what you do.
3., 4.) Brainstorm 2 times your business/brand was tagged in a positive post or review.
5., 6.) Brainstorm 2 different behind-the-scenes situations you could take a photo of and explain the process of in your business/brand.
7., 8.) Brainstorm 2 different special moments in your business/brand history which you are proud of or have (even a simple) story behind them.
9., 10.) Brainstorm 2 different mentors or role models who have made a difference to you or your business/brand and why. Bonus if you can include their Instagram handles or names for tagging them in the post.
11., 12.) Brainstorm 2 different self-development or business development situations that you are participating in. This could be as simple as reading a book or as big as attending a workshop or conference.
Use the worksheet provided. I mean, really use it. Write outside the margins and doodle notes. Let it inspire you to start thinking about your posts. The world wants to hear from you. There is a blank grid for you to sketch out "thumbnails" of what you want your feed to look like, and a suggested way to lay out these posts. You may be creative, or you may not be, but think of how these posts work with your brand, mission, and message we talked about in the first 3 steps.
Do these first, be consistent for 2 weeks, and then head back here and we can talk about engagement and other proven tips for helping your account grow. Tag me as you brainstorm in your posts. I would love to see what you're up to! I promise to always give you the absolute most accurate information that I have.
If you have any questions, I encourage you to connect with me on Instagram. I try to answer every single message and comment as much as possible.